Last night we launched two brilliant new short story collections, Beats of the Pa'u by Maria Samuela and Home Theatre by Anthony Lapwood, at Unity Books Wellington. We were lucky enough to have Emily Perkins there to launch both books for us . . .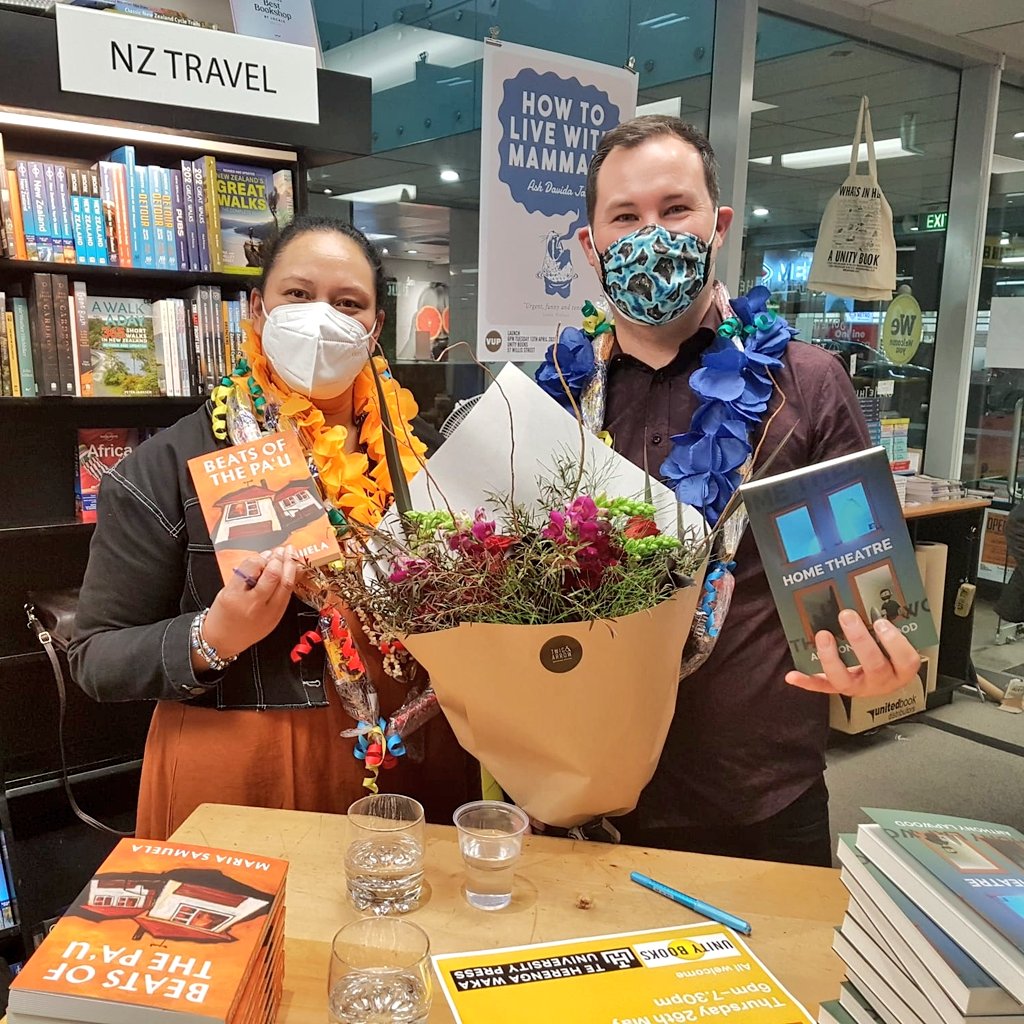 Maria and Anthony launch their books, via @antzlapwood
These collections are incredibly different, original and unique, but they do share some common themes, which might emerge as I say something about each individually.
First, Maria Samuela's wonderful Beats of the Pa'u – a collection of short stories about first- and second-generation Cook Islands New Zealanders. The stories take place between the 1950s and the modern day, and anyone with a 70s or 80s childhood will appreciate the evocation of those eras. As well as the beats of the pa'u, you'll also hear Earth, Wind & Fire, Donna Summer, teenage laughter, lonely crying, the sound of cars revving and machinery clanking, church choirs, the hiss of a cigarette lighter, the background cheers of Telethon, police sirens, and the beating of hearts.
The collection is beautifully and cleverly structured to bring many facets of a community to life – Maria's writing effortlessly shows how complex life is, how navigating its mysteries requires hope and how hard and humbling that can be.
For new arrivals like Kura in 'The Promotion', and his father Taki before him, finding home so far from home can be a raw experience, weighted with loss and leaving even as family welcome them here. There's so much unsung bravery in these stories, and sadness, but they are laugh out loud funny too – and Maria always has us laughing with, not at, the characters. And the stories can take sharp, unexpected, and true turns into change, sometimes hopeful, sometimes heartbreaking.
The great American short story writer Grace Paley talks about stories requiring the facts of 'blood and money' – blood being the inner, soulful stuff of who we are in our families, who we love and who we hurt. And money being the matter of survival, where you're going to get a job, how far the milk is going to stretch, what security looks like, what it costs.
These themes are like drumbeats under Maria's stories, which are driven by their characters, and also propelled by the complications of community – the shelter and identity it provides, and the constraints that appear when generations rub up against each other, so close in proximity, bound together in countless ways, yet sometimes literally oceans apart in formative experience.
In Maria's hands, these themes ripple with subtlety. She shows, for instance, the way communities are so much more capacious, varied, and forgiving of transgression than might at first appear. She shows how seeming generational differences in fact overlap, and how there is often more in common than either age group might know.
This is an important book in NZ writing, weaving skilled and inventive story-telling, nuanced characterisations, and a loving and clear-eyed evocation of a community from arrival in this country to the terror of racist dawn raids and deportations. And it includes one of the best, and funniest, sermons – about sin, hypocrisy and meat packs – that you're ever likely to read.

*

The theme of community, and the lack of community, is present too in this fantastic debut – Anthony Lapwood's Home Theatre. This ingenious collection takes an apartment block as its central location, but that realist setting houses an incredible range of inhabitants and stories. The book operates like one of those magic boxes that keeps opening up to reveal another chamber, each one making the whole into a new shape.
The book embraces a great range in scale – from an infestation of ants to the conjuring of the stars – and is just as open-armed with genre. A key recurring figure is a time traveller – but as well as time travel you'll find snippets from a neighbourhood group chat, and stories told in multiple ways about inherited trauma, romance, missed opportunities, mysterious apparitions, guilt and grief.
Each story works brilliantly on its own, but taken together the overlapping and layering creates a kind of palimpsest effect, where you experience the kind of shared space Anthony has created for readers, as if we're all neighbours, passing each other in the hall or on the stairs.
Whether we say hi, keep on moving, or invite one another in, is one of the questions underpinning this collection. Home Theatre is about connectivity in many forms, and what Anthony achieves in terms of patterning and suggestion and complexity is audacious – I found myself almost gasping at the central image of the apartment block, which is also a former theatre, a former garment factory, a radio factory and the physical model for a radio console called Home Theatre – can one book do this? Well, in Anthony's hands you find yes, it can.
It also has great tenderness for its characters, and a quiet central love story that for me carries the heart of the book.
Finally, Maria and Antz, on a personal note I want to salute you both. In the wonderful, poignant story 'The Ether of 1939', time-traveller Dylan says 'Stories are a time travel device in their own way' – and I had my own time travel experience reading these collections – back to the MA workshop of 2017, where you began writing them. For both of you, your dedication, your seriousness and playfulness, your love and care for your subject matter and your joy in the hard work of writing was apparent from the start. Since then, your stamina and ongoing drive to make these stories the best versions of themselves has been inspiring – and you've succeeded. These books mark the culmination of really meaningful work, and I know they will connect with countless readers.
So here you have them – two striking new books that announce the arrivals of serious new literary talents. I'm going to time travel to the future to predict Maria Samuela and Anthony Lapwood will both be authors who have lasting effects on our literary landscape.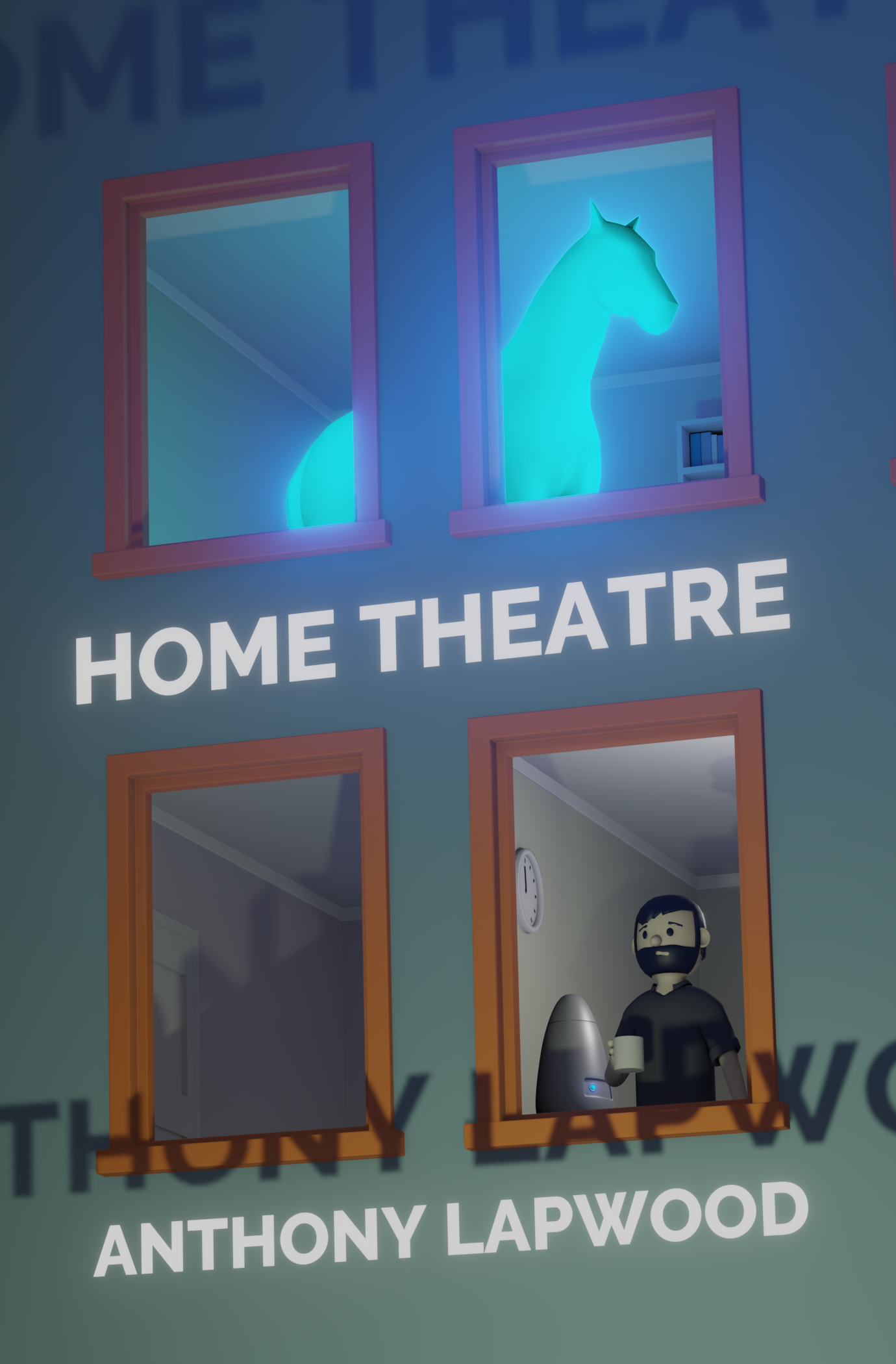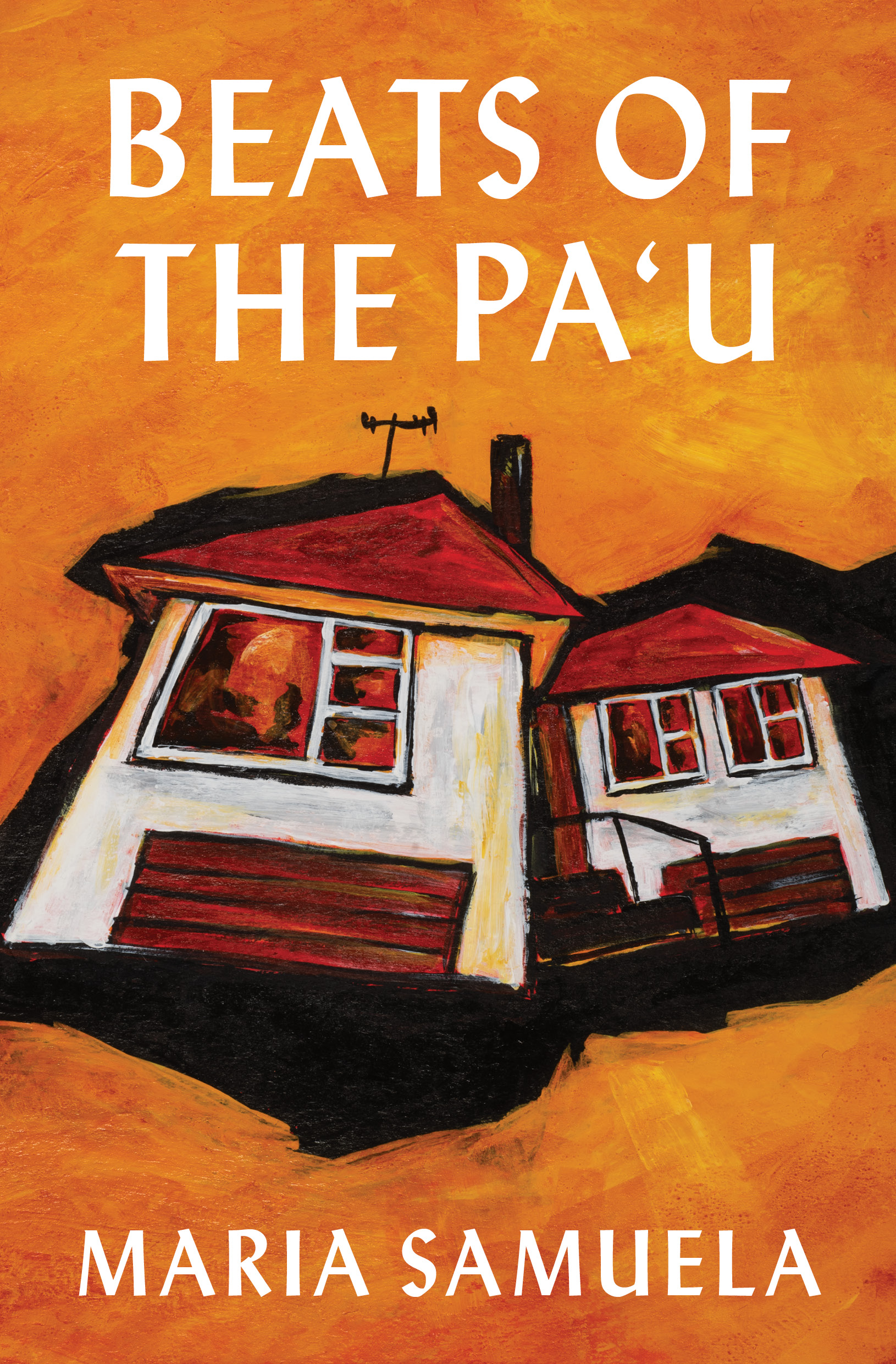 Home Theatre by Anthony Lapwood and Beats of the Pa'u by Maria Samuela are available directly from us on here on our website – and at all good bookshops.