On Wednesday 9 August we launched two new poetry collections: Saga by Hannah Mettner and Middle Youth by Morgan Bach. The launch master for both books was Rebecca Hawkes, author of Meat Lovers and co-editor of the literary journal Sweet Mammalian. Thanks to everyone who came along, and thank you to Unity Books Wellington for hosting us! Here's Rebecca's speech.

---
*Shania Twain voice* Let's go girls.
I have looked up to Hannah and Morgan ever since I was a baby writer stumbling around Te-Whanganui-a-Tara and getting gently rejected from Sweet Mammalian. Before knowing them as friends, I ate up both their debut collections with all the hunger of Saturn devouring his son. So I'm sure I'm not the only fangirl in the room who has eagerly anticipated the next instalments. But both poets have seemed kind of shy about releasing their second collections –Hannah cites a dry spell in her acknowledgments, while Morgan often jokes that she ran away and left the country as soon as some of us eat the seeds was released, and kind of looks ready to sprint away now too.
But these poems are… inescapable. I find that poems arrive even when you don't think you are writing a book – digging for the source of some spiritual splinter, or just playing with a joke to tell your friends. And Hannah and Morgan write such fucking excellent poems, so I'm glad the poetry came to them anyway, and I'm stoked they've made it to tonight to celebrate each other's books, from a shared pact to send in their manuscripts despite all skin-peeling vulnerability that comes with packaging those poems into a product other people can just…. look at.
But bloody hell I do love looking at these! Please judge the books by their covers. Hannah's pastel serpent hissing contraceptive temptations; Morgan's abundance of wilderness circling the void.
The narrative voices in each of these books are restless women – traversing countries, histories, bone-deep relationships and casual intimacies, throwing the sheets off beds too hot on a boiling planet. And these books also share anchorings – of aching bodies, of family, of blood.

Blood is something I come back to over again, binding Saga and Middle Youth in true coven fashion. There's the relentless sloshing of the heart in Morgan's bodily plague poetry, and the splatter of heart-blood from Hannah's buried Wiccan girlfriends. There's the inheritance of blood in what it means to be a descendant and possibly also an ancestor on this stained earth, the pouring forth of sanguine heat in desire or protest; the bloody promise of the birthing body, and womanhood which not necessarily defined by uteri but certainly by labours – of beauty, silence, pain and survival.
It's also been hard for me not to read these books in the context of the Barbie movie, which kind of disappointed and riled me cos of how little a text has to do to be cited as an act of radical feminism these days. To me it all felt… bloodless. So I would recommend anyone wanting to wrassle with womanhood in late capitalism picks up these collections instead of any plastic doll. Read Saga and Middle Youth for the tender cynicism, the bi icons, the maidens, mothers and crones – yes, most of all, the hags. Hannah and Morgan have matching all-caps HAG rings to celebrate the launching of these books, which don't just say ~wrinkles are pretty too~ but get into the richest gristle of aging as a girl in the world.
Hannah's Saga is a MILF manifesto, electric with queer and unabashed sex and roasting oppressions in the name of holiness. There's the fizziness of art deco crystal champagne flutes of 'OMG am I a hedonist?" and the deepest black of caves in which lurk trapped children or prehistoric paintings, tangled together with blackberry brambles of all the bodies that led to this one and its continued lineage.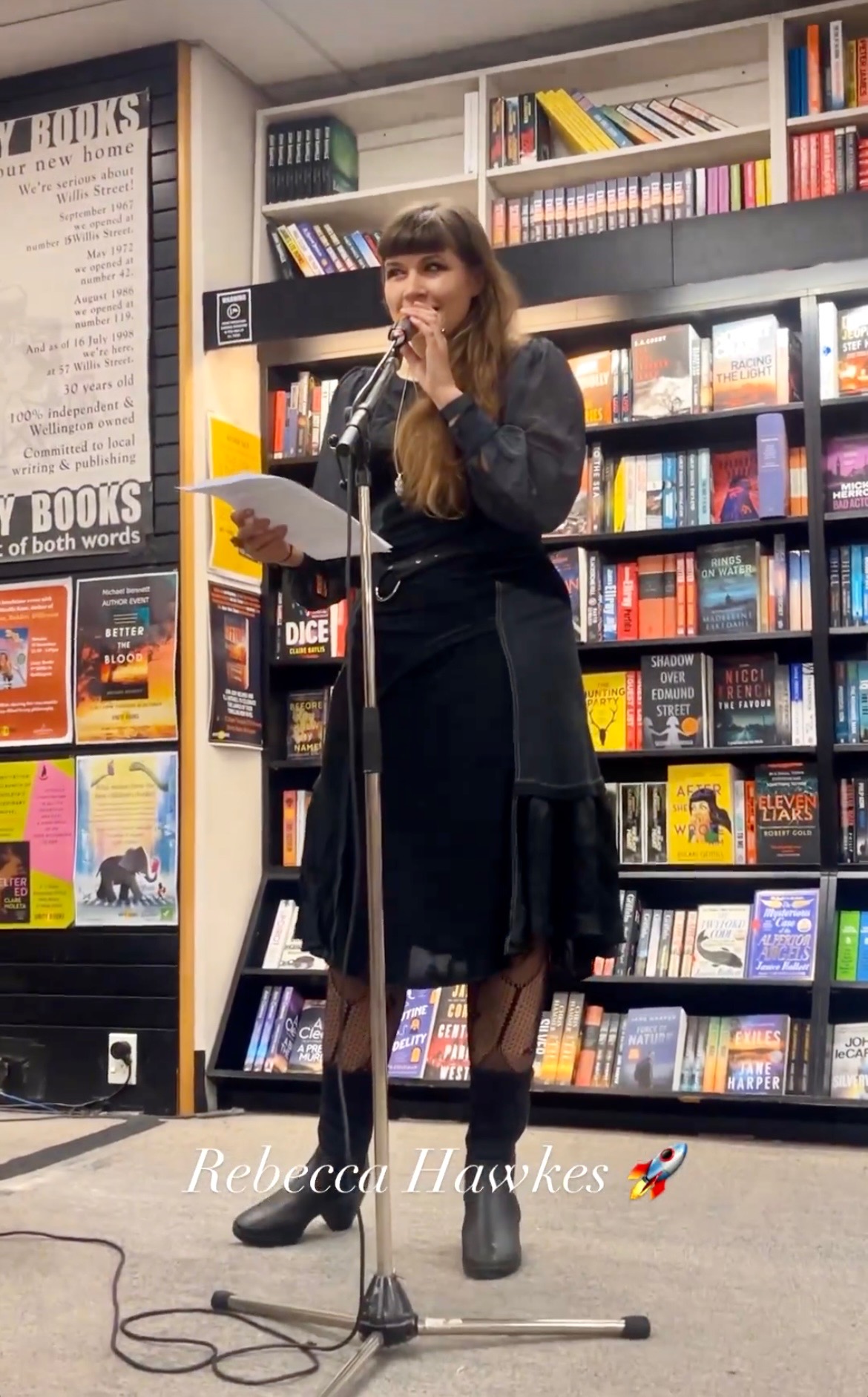 Much of this collection deals with work – jobs, sure, but the work of women, as friends and lovers and exes, as mothers and daughters, active players in market of beauty and butchness, as red-lipped mouths silent in the historical record, as artists in the cracks of the capital, as people pleasers failing to dump someone by text from an art gallery because of still wanting so much to be liked… all this labour becomes, like a Vatican fresco of the girlies hanging out with babies at their breasts and sandalled feet resting on decapitated heads, "the pastel chaos of womanhood / and behind them, all in black, a neat semicircle of men". Morgan's Middle Youth is similarly unflinching about the long shadows cast by the guys at the top of the heap: "the world is still full of great men / making it completely unliveable for the rest of us." But banging on about the men in my speech reminds me of how the Barbie movie was really about Kens. Trust me, these books pass the Bechdel test.
Unspooling from a series of Hilma af Klint paintings, Middle Youth is bigger than any broski – it's about being a finite body in the end times, a stopped branch in the bloodline. "I've never hatched anything, never hatched a plan, // never laid any human intervention / in the future." Motherhood is in a way as present a concern in Morgan's collection as much as Hannah's - "this clutch of years made a few decisions for me, world events an aid to resolution", staring down a future without procreation, which is still a reckoning with all a body can be in the churning cosmos. This book is cosmic, it's cryptically honest, it's elemental. It makes me want to drink a cocktail of magma and melted permafrost and the red moon's reflection on sea brine, lit with a flint to see if I can taste the extinguished flame. Who wants to be hot / on a doomed planet? Morgan asks – but don't all of us, still, over cocktails named for blood sports?
Formally, these poems taut, tense, terse. They have no time to waste in the unravelling days, roaming through time zones. Couplets score the page like the notches on a candle, or high water mark rising with each tide. Morgan writes with bleak grace on the backdrop of climate crisis: "There isn't going to be a thread / to lead us back out // to the world we remember. / The people we were then // are gone. Their world / by degrees hotter // quieter / in summer." I love in this book the shocking fury that suddenly we have become the 'adults' – when "life is only moving as fast as I feel it", and even our parents still feel like teens (but with a wind dragging on them). And meanwhile the children's walls and bedspreads and onesies are papered with cute extinctions –dinosaur bones, "mascots of catastrophe". But it's not all doomscrolling. Like Karla Marchesi's paintings, the darkness holds a rich intensity - and her grandparents' antics reveal that being a redhead is indeed an entire personality.
Hannah and Morgan, we're so lucky you double dog dared each other to share these books with the world. Your wit and spirit and venom are all more than we deserve. Keep your blades sharp, your unassuming fruit knives set as traps or ice axes to hack through the ice around a leaking seed bank. Pour out an elixir for SAGYOUTH.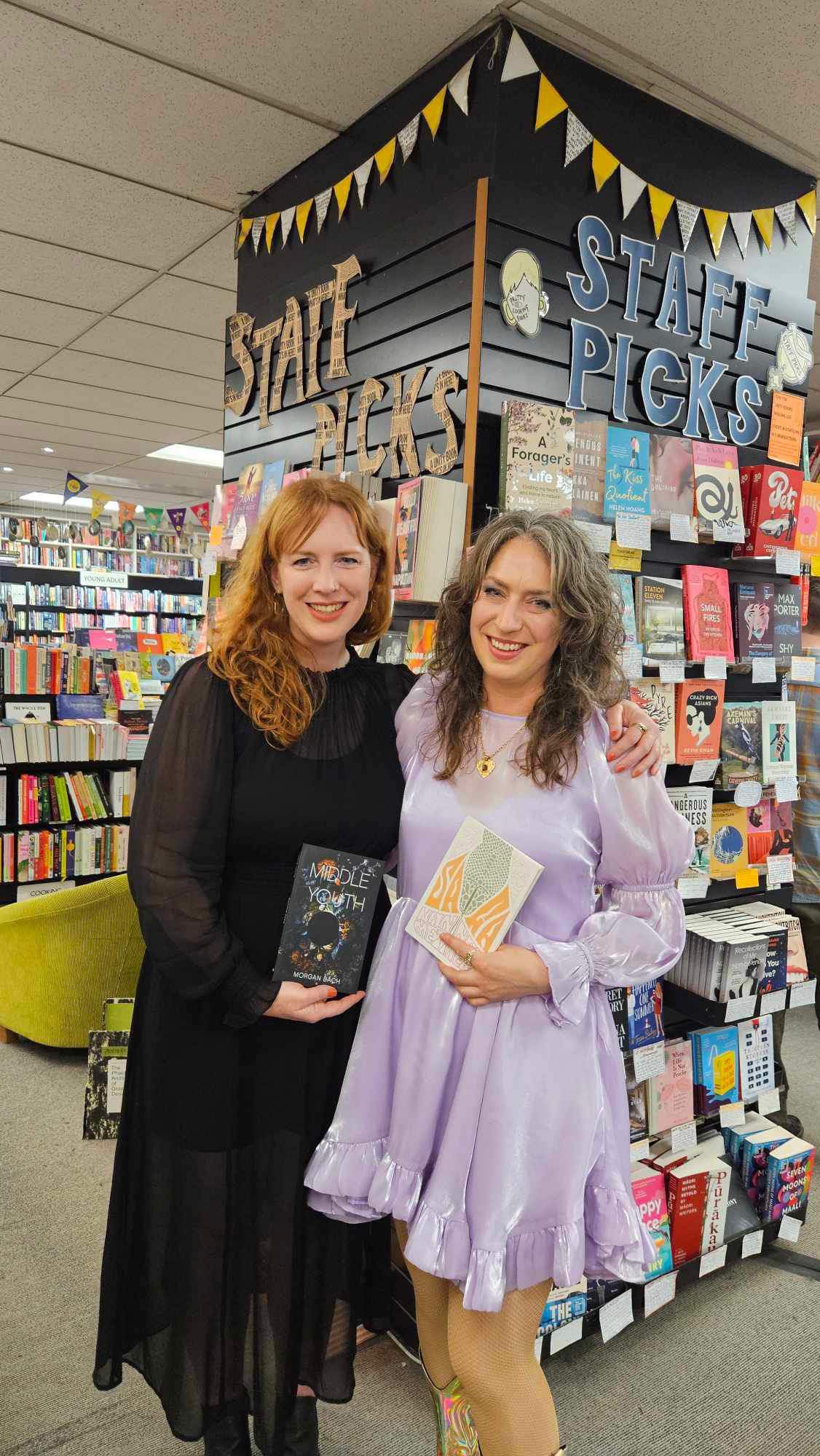 Photo: Melissa Oliver at Unity Books Wellington

Saga (paperback, $25) and Middle Youth (paperback, $25) are out now from all good bookshops and from our website.